Review: AfterShokz, sports headsets with bone conducting technology pt. 1

Copenhagen, 26/01-2015 – AfterShokz is the name of a New York based company, which takes advantage of the bone conductingtechnology in their headset products. Headsetaudio.com takes a close look at the technology and reviews two of their headsets. We want to see if they are as good as they claim to be.
Bone Conduction technology
The concept of bone conducting technology has been around for many years, but has been developed at a rapid pace for several years in the headset industry. The first documented use of bone conducting was by the world famous composer Ludwig Van Beethoven. He suffered from a severe form of tinnitus and in the 18th century there were not any aids for hearing damage. Beethoven then found out that he could attach a metal rod to his piano, he would then bite into that rod allowing the sound waves going through his jar – he was then able to hear the music from the vibrations.
The technology is to let the transducers create vibrations that goes directly to your cheek bones via pads located in front of you ears, instead of normal sound waves through air. This makes it possible to bypass the eardrums and outer ear and let the sound vibrations go straight to your inner ear via the so-called cochlea.
Many does not know that we all have experienced bone conducting sound vibrations – this is actual the way we hear our own voice, and explains why there is a difference in how we perceive our self when listening to a recording of our voice and how other people hear us.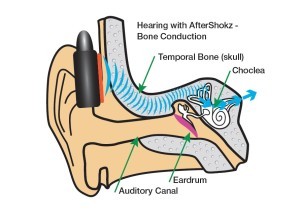 In present time, the technology is known to be used in the military for improving situational awareness, while communicating with the team. The famous Matt Bissonnette, former SEAL team six member, which was a part of the Osama Bin Laden arrest, describes how the "bone conduction headphones" was a vital part of their communications equipment – information can be read from the book "No Easy Day".
There is some obvious advantages of the technology, such as ambient noise awareness of your surroundings making it safer to hear music when doing outdoor activities. The fact that you do not get the music through your eardrum also minimize the chance of getting a permanent hearing damage using headphones. Furthermore there has been evidence of people having suffered hearing loss, can use this technology to hear clearly again – that is also why some hearing aid manufacturers has used this technology.
We actually had the chance of letting a person with impaired hearing, testing the headset for a few tracks. Her response was positive, she heard the music more clearly than when she was using normal earbuds.
AfterShokz Bluez 2
One of the top models from AfterShokz, and the first headset we tested is their wireless Bluetooth headset. It goes by the name Bluez 2, and is as the name indicate the 2nd generation of their Bluetooth headset.
Unboxing
As we start to unpack the headset, we notice that the packaging indicates that it's a product that is made by a company that knows what they are doing, and put a lot of effort in development.
The packaging contains the following
Bluez 2 Headset
Instruction manual
Weatherproof storage pouch
USB charging cable
Tension band
Reflective stickers
Design and comfort
the design is simple and Bluez 2 comes in a glossy black color with a mat interior, you can also get a version with a light green interior. It's a neckband sort of design, and the transducers is placed on small hangers that goes above your ears, and place them just in front of them. On the left side you have a small silver button, that works as a multi-function button to change tracks, answer calls etc. Volume and power sits underneath the headset on the right side, and we noticed they were a bit hard to use during our first times of use. In the middle of them the Micro usb is placed for charging. Furthermore it is possible to attach a small rubber band for added comfort, and better fit.
We were a bit surprised of how comfortable the Bluez 2 were – we tested the headset for several training sessions, including outdoor running, cycling, and a few sessions at the local gym. Compared to normal ear buds, it was a treat to have them on for many hours of workout without having something stuffed into the ear canals. It was virtually impossible to shake them off during all of our sessions, it was only when lying down on the bench doing some dumbbell workouts, we felt wearing them.
We asked a few people for comments on the Bluez 2
"I didn't know that something like bone conducting existed, but it looks really cool. The sound is a bit different than I'm used to in my normal headphones." Christine, Fitness World.
"It think it is something that I have to get used to, and not something I would use in the gym – but definitely when I'm running outdoors considering the safety issue with normal headsets. The fact that I can hear everything around me is very nice" Michael, Fitness World.
"I think I have heard about bone conducting before, but didn't know there were any good products – these AfterShokz seems to be of a very good quality, and the sound is decent. The fact that it allows you to be more aware of your surroundings is such an important issue." Anne, Personal trainer.
Features
The Bluetooth in the Bluez 2 is the v.3.0+EDR which is not the newest generation of bluetooth chips, but it does the job good. We did not experience any problems with the claimed range, and always had a steady connection, which is a challenge for many Bluetooth products.
It reaches a total of 6 hours continuous play, and 10 days of standby. It only takes around two hours for a full charge, but already after 15 min. charge there is enough battery time for a short workout session.
They have put in a voice guide named Audrey, and she will tell you everything that is going on in the headset, which we found very useful during our daily use of the headset.
All the normal controls of your smartphone is easily accessible from the multi-function button on the left side.
It also features a microphone for receiving calls on the go – and they have even used the multiple microphone noise cancelling technology as we see on more advanced Bluetooth headsets.
One unique thing, and for us a very important thing, was preset equalizer settings. With a simple long push on the volume button the equalizer switches to another preset, changing the bass and vibrations on the transducers. We found this function was a game changer for us to obtain the most comfortable sound.
Another feature to point out, is of course that Bluez 2 is water and sweat resistant, by some similar nano coating technology as Plantronics uses in some of their products. This feature should always be a part of a good sports headset, this is just a "must-have".
Audio and performance
We must admit that we didn't expect this technology to perform very well. As we started to fiddle around with the headset and positioned them the right way, we found the music quality to perform far better than expected. The high and midrange tones really stood out, and came out clearly without any distortion and with enough details to experience all the different tracks we put on. The low bass tones was not as good, but did fairly well considering the acoustic challenges of the design and technology using vibrations. The vibrations tended to tickle a bit in the ears when turning up a bass heavy hip-hop track, but then we just adjusted the volume to a more comfortable setting.
Some other challenges showed at our sound test were – as the transducers create vibrations, it also create normal sound waves that travel through the air, which means they are not silent to people standing next to you. According to AfterShokz this has greatly improved by their LeakSlayer technology which should minimize the sound leakage. This is something that is a common problem with the bone conduction technology, and is constant developed to minimize.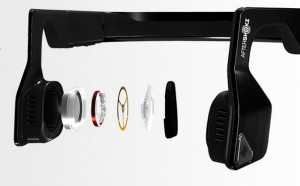 It also creates questions, as far as whether the Bluez 2 really play through the bones, or if it is just some small loud speakers playing in front of your ear? Well an easy test could show us the answer – I simply stuffed my fingers in the ear, and I could clearly hear the music still, and I even noticed that the sound quality was greatly improved during that test.
Conclusion
When we got used to the Bluez 2, and learned where to position them, we were really excited about their performance. The technology has been greatly improved by AfterShokz, and they have manufactured a headset that can take over any sports headset out there. Not that it would outperform them on sound performance. The bone conducting technology would probably never reach the same sound quality as normal headsets/headphones – But the concept and the fact that it makes it possible to have full awareness of all surrounding ambient noise, is so vital when doing activities among traffic etc. that it should be a part of every athlete's collection of headsets. Do not expect them to play bass tones as your Beats, and high detailed notes as your MOMENTUM, but expect a good sound quality, way better than your standard iPhone headsets, and stay safe at the same time.
Overall, they got all the features we needed, and a bit more. Bluetooth chip and connection is doing better than most of the wireless products we have tested.
We would definitely recommend buying your own version – and we look forward to many more outdoor activities with our own version of Bluez 2. We stay informed of AfterShokz development of products, and hope to see a lot more from them in the future.
In part 2, we are reviewing the wired version of their sports headset – AfterShokz Sportz M3.
Read more at their homepage: http://www.AfterShokz.com/
Visit the nordic distributor and get your own version of AfterShokz at: http://frozenlakes.com/