Product news: Harman Kardon Esquire 2

Copenhagen, 07/09-2015 – New ultra-slim portable speaker from Harman sets the standard for premium quality and design. Made specifically for conference calls, but with superb audio quality when listening to music
This new speaker from Harman Kardon fits perfectly into an business environment, with its subtle and stylish looking design. It got this corporate design to it, and is crafted out of premium materials. It is not only a great music player, but Harman incorporated speakerphone features like quad microphone with noise and echo canceling technology to provide crystal clear conference calls.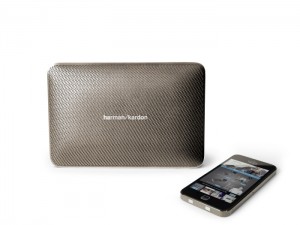 "The Esquire 2 is the perfect partner for the style-minded shopper who wants excellent sound quality and flexible teleconferencing capabilities," said Michael Mauser, president, Lifestyle Audio Division at HARMAN. "It's the ideal fusion of chic design, portability and superior sound whether at the office, home or on-the-go."
Wireless Bluetooth Streaming: Wirelessly connect up to two smartphones or tablets to the speaker and take turns playing rich, high-end music.
3200mAH Rechargeable Battery: Built-in rechargeable Li-ion battery supports up to eight hours of playtime and charges devices via the USB port.
Quad Microphone Conferencing System: Harman VoiceLogic noise and echo canceling technology delivers 360 degree voice pick up for crystal clear conference calls.
Advanced Craftsmanship: Redefined elegance and performance in an all-in-one speaker.
Read more and experience this product at www.HarmanKardon.com