Product news: Jabra Speak™ 810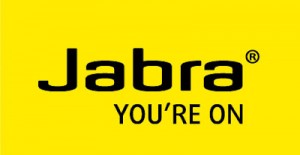 Copenhagen, 24/09-2015 – Jabra held a webinar today, announcing more specifications for the new Jabra Speak™ 810. It only confirmed that this product is something that the market has been asking for, in a while.
Like many other product launches we see from Jabra, they have done a brilliant job of doing the relevant research for the specific product. The Jabra Speak™ is no exception, and throughout the webinar, they showed some interesting statistics and knowledge about where the industry is headed.
To begin with Jabra announced some statistics to show why the market needs a product like the Speak™ 810.
In the U.S a knowledge worker spends aproximately 18 full work days in meetings through out the year. Put into perspective is that, a lot of those meetings costs more than 37 billion USD in the U.S alone, because of useless time spend before, during and after those meetings. Main issues is technical, because of complex hardware and conference solutions, making it more difficult for the knowledge workers to adopt. 63% states that their presentation performance is negatively impacted by technical issues.
This is where the Jabra Speak™ 810 boost productivity and drive adoption with its simple, plug-and-play, and easy to use interface.
Look below chart to see the needs in each category of decision makers.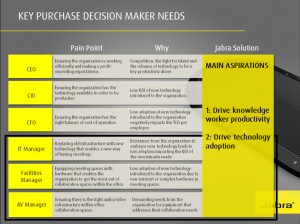 Business opportunities
On a worldwide scale, there is estimated around 55 million meeting rooms, and 24 million of them is mid sized. Jabra states they focus on the mid sized meeting rooms with the Jabra Speak™ 810. Jabra expect the speakerphone market will have a yearly growth rate of 20% from 2016-2018.
Competition
There is not much competition in the price range and quality – but Jabra compares their new Speak™ 810 with Konftel 55w and Polycom CX3000. Only difference is they come with dial pads, and the Konftel 55W got a rechargeable battery. Considering the lower price for the 810, it seems fair enough.
Jabra Speak™ 810 – overview
Connections
The Jabra Speak™ got all the connections you would need to connect to your favourite collaboration tool or device. Bluetooth for wireless connection, 3.5 mm jack for ease of use, USB to your Skype for Business or other softphone application. It also got NFC for easy pairing to your NFC enabled device.
All development partners certifies the Speak™ 810, and it of course comes in a MS Skype for Business certified version.
Zoomtalk™
No new product without new technology, Jabra introducing for the first time the Zoomtalk™ technology. the Zoomtalk™ technology controls the intelligent directional microphones in the Speak™ 810 that focuses on the human voice and filter out ambient or unwanted noise. Furthermore it filters out distorted sound, and echo to.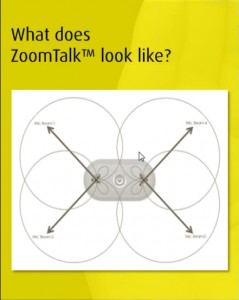 Cover range
One important thing is the size of meeting room and cover area, as it defines where it can be used. Jabra claims that the Speak™ 810 is the speaker with largest cover area on the market without the use of Satellite microphones. The specifications is 100 m2 rooms, and up to 10 m. distance to the speakerphone.
Design
The design is exactly like the 410/510 – the only difference is that they have pulled in each end of the speakerphone, making it larger. We would have liked to see a bit more contemporary design features, to give it a bit more edge to the competition.
Dimensions(in cm): W: 36,60 H: 4,50 D: 28,70
Battery or no battery?
One of the things we were looking forward to know was the power source. The Jabra Speak™ 810 does not come with a battery, and requires an AC adapter for providing power. This is different from 410/510 as they come with a buildin battery. Making the Speak™ 810 more of a stationary solution for specific meeting rooms. One cool thing about this, is that Jabra has added an USB power plug, where you can charge your smartphone or any other device during conference calls and meetings.
The MSRP is set to 599 USD
Read more and pre-order now at www.Jabra.com or contact us for information where to get it in your specific country.