Product news: Sennheiser with industry's first wireless adaptive ANC headset for business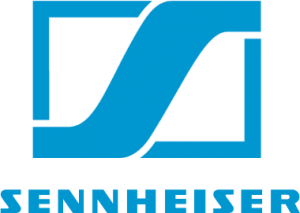 Copenhagen, 26/09-2016 – Sennheiser has created one of this years most exciting products. With a new adaptive ANC and certified for business grade communication, this new pair of headset is one of the most awesome launches this year!
Sennheiser earlier this year introduced us to the PXC 550 headphones, and now these are launched in a business solution. With the slogan "reclaim your office", Sennheiser has introduced a industry's first wireless adaptive ANC headset for productive and comfortable open plan office working.
The way of thinking is not new, as we have seen products from Jabra and Plantronics with same way of thinking – The Jabra Evolve 80 and the Plantronics Voyager Focus. But even though we have seen some products in same category, Sennheiser's new MB 660 introduces a whole new standard for these products.
Key features
2 active noise-cancelling modes
Full-on ANC on/off
Adaptive ANC, a new dimension in ANC
UC certified with major UC brands and softphones
– for both MB 660 headset and BTD 800 USB dongle
3 digital microphone technology for superior speech intelligibility
Battery life: up to 30 hours for maximum performance
Sennheiser's renowned signature sound
Multiple connection options (wireless/wired + cables & PC dongle)
Premium quality design and supreme wearing comfort
Personalization of active noise cancellation and sound effect mode via Sennheiser CapTune App
Accesories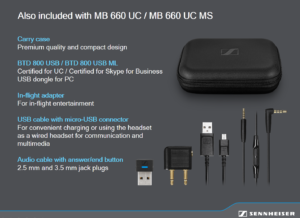 Benefits and challenges of open workspaces
To tell us a bit of the background of creating these products, Sennheiser tells has done some resarch of the market. Telling us a few things about open office workspaces. The benefits are clear, and has been for many years, for example enable team work, encourage innovation and creativity, increase workplace satisfaction, and increase productivity.
The main challenges of knowledge workers working in open offices are: noise, lack of privacy, and disruptions. Here are just some statistics to highlight the challenges:
Knowledge workers are on average interrupted every 3 minutes and spend around 28% of their time on unnecessary interruptions2
69% of knowledge workers in open offices are dissatisfied with the noise level at their current workplace3
Moreover, a study in the Scandinavian Journal of Work, Environment and Health found that open office setups reported 62% more sick days on average than one-occupant layouts (stress & virus/illness related)4
A number of studies done in different parts of the world showed decreased productivity
In addition, a 2008 Meta-study done by the Queensland University of Technology's Institute of Health and Biomedical Innovation, which looked at 59 studies done globally during the past 30 years concluded: In 90% of the research, the outcome of working in an open-plan office was seen as negative: high levels of stress, conflict, high blood pressure, high staff turnover. High level of noise causes employees to lose concentration, leading to lower productivity, there are privacy issues and a feeling of insecurity (being watched over the shoulder).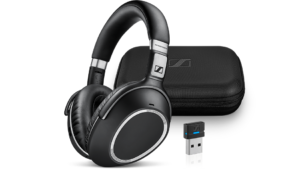 Research
Gensler's 2013 U.S. Workplace Survey represents responses from 2,035 randomly sampled knowledge workers nationwide. The study examines the design factors that create an effective workplace; how design can better support knowledge worker engagement, satisfaction, and performance; and the influence of the workplace on organizational culture http://www.gensler.com/uploads/document/337/file/2013_US_Workplace_Survey_07_15_2013.pdf
Average office worker: Interrupted every 3 min (50% self interruption, taking the phone, etc.) Time spent on unnecessary interruptions: 28%
Employees in cubicles receive 29% more interruptions than those in private offices
Employees who are interrupted frequently report 9% higher rates of exhaustion
Gloria Mark, Professor in the Department of Informatics at the University of California https://www.ics.uci.edu/~gmark/chi08-mark.pdf
Gensler's 2013 U.S. Workplace Survey http://www.gensler.com/uploads/document/337/file/2013_US_Workplace_Survey_07_15_2013.pdf
Additional research: Researchers from the Hong Kong Polytechnic University wanted to study which aspects of office design had the biggest impact on workers' productivity. CK Mak and YP Lui questioned 259 office workers about the importance of sound, temperature, office layout, air quality and lighting for productivity; they found that sound and temperature mattered the most. The most irritating noises were conversations, ringing phones and machines http://bse.sagepub.com/content/33/3/339.abstract
Sennheiser expertise and knowledge
For more than 70 years Sennheiser has been industry leading audio experts and innovative in sound technologies. Therefor the MB 660 is packed with some of the best features from the audio world. Among them the NoiseGard, which Sennheiser already had the technology in the 1980's for their aviation products, but now has been further developed with an adaptive technology.
NoiseGard™ hybrid adaptive ANC
By constantly monitoring your background environment for noise, Sennheiser's NoiseGard™ hybrid adaptive ANC technology seamlessly adjusts to ambient noise around you, giving you the most comfortable listening experience.This unique technology provides the correct level of suppression where and when it's needed and enables you to take control of your sound environment, so you can have a productive, disruption-free workspace.
SpeakFocus™ technology
Sennheiser's unique SpeakFocus™ technology with 3 digital microphones delivers crystal clear sound, making it easy for listeners to hear what you're saying
– even in noisy open offices, so your call time is always effective.
When you are in a conversation, the Advanced Own-Voice-Detector detects your voice and optimizes speech intelligibility as well as reduces background noise for your listener.
When no speech is detected, all distracting background noises such as keyboard- or paper rustling sounds are gradually reduced to make the communication experience more enjoyable for the listener.
TalkThrough
Hearing announcements or the voices of nearby colleagues who need to speak to you is often a hassle and involves taking off your headset to hear properly. With Sennheiser TalkThrough technology, you can listen to your colleagues or keep an ear open for announcements – all without removing your headset.
WindSafe™ technology for wind noise reduction
Be sure that your message gets through – even in challenging outdoor environments.
WindSafe™ technology reduces wind noise to ensure the clearest possible sound is sent to your listener – and that your answers aren't left blowing in the wind.
Room Experience™ technology
Sennheiser's Room Experience™ is designed to reduce listener fatigue for all-day users. By externalizing the sound from your head, Room Experience™ gives you the impression that you are having a conversation with a person in the same room. This more realistic sound gives you a more natural and comfortable listening experience during a call.
Sennheiser Signature Sound
The MB 660 delivers Sennheiser high-quality signature audio, and CD-quality streaming with aptX® for your ultimate sound experience.
Create your own sound with a choice of sound effect modes (Club, Movie, Speech, Director) to get the best personalized sound for speech, music and entertainment.
Look below for features in details:
Sennheiser CapTune app for iOS and Android
With Sennheiser CapTune sound personalization app, you can:
Adjust the level for the adaptive active noise cancellation to suit your individual preference
Use the Sound effect modes: Club, Movie, Speech & Director to tune the sound to your preference
Change voice prompt language to your preference – English, German, French, Spanish, Chinese, Japanese, Russian and Korean
Enable / Disable – Call Enhancement / Room Experience
Enable / Disable – Smart pause using the headsets build in sensor
See battery level of the headset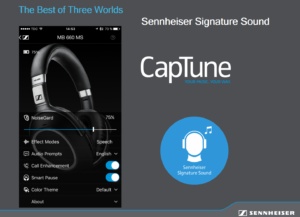 Sennheiser MB 660 technical data
The only thing left for us is to test this new product, and we expect to give you a review soon – meanwhile you can read more and visit Sennheiser at www.Sennheiser.com
If you want more information on how to get this product, send an email to us.